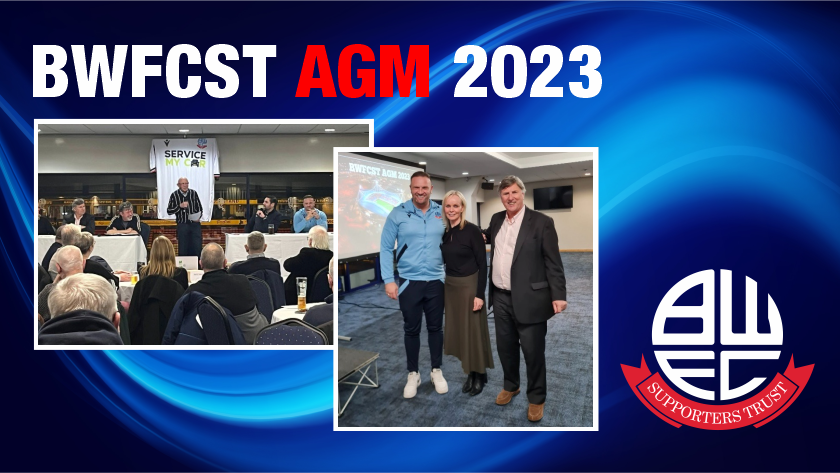 What an Interesting Evening! – Trust AGM & Neil Hart/Ian Evatt Q&A
BWFCST Admin
Our 2023 AGM, held on Thursday 2nd February '23 was a great success, with fans who attended in person having lots of opportunity to ask questions of both Ian Evatt and Neil Hart. As BWFC fans we aren't known for holding back and there were many topics covered, members questions asked, and lots of open dialogue in return. Topics were wide and varied, including:
Can we have a loyalty scheme for away match tickets?
Why do tickets have to go on sale at 10am?
Can the cost of parking be lowered?
Where does the money from car parking costs go?
How much is in it for Parking Eye?
How does Ian Evatt get his inspiration from?
Is James Trafford on his way back to City next season?
Will there be match buses next season?
Will there be an opportunity for fans to buy shares in the Club?
Can the costs of food & drink be looked at? £2.50 for a bottle of water is too much?
The evening was live streamed for members and those who didn't get the chance and would like to view the full event (including answers to the above!) can now do so by logging on to our YouTube channel here – and whilst you are there, please subscribe to the channel (it's free!).
We can only thank Ian and Neil for speaking openly about the challenges and opportunities both on and off the pitch. Providing the chance for trust members to engage with the club directly and being able to create those opportunities for our members to have their say is our biggest priority. If you're not already a member, join us, and take advantage of the discounted offer of a £5 first year membership subscription when buying your season ticket in the early bird window. You can join by clicking here and using the code BWFCST5 when registering your membership.
So, what has happened since the meeting?
Today (Thursday 9th February) we held the latest of our regular structured dialogue meetings with the club, which was attended by Neil Hart (CEO), Siobhan Chaplow (Chief Communications Officer) and Phil Mason (BWitC CEO) and during which several of the items listed above were discussed in more detail.
We know some fans have concerns, evidenced by messages into the trust directly, and comments made on social media highlighting several issues.
A major topic that was discussed today was the operation of the match-day bus service. This will now form the focus of another of our working groups which will explore all available options ahead of next season and to this end, meetings have already been held with the club and Transport for Greater Manchester (TFGM). This is very much work in progress, but we would like to assure all BWFC fans that we will do all in our power to ensure the requirements of as many fans as possible are catered for.
Finally, we would like to draw attention to the members-only area that will soon feature on our website which will offer a range of benefits to members with an annual subscription – watch this space!
Thank you for your support!
BWFCST
09 February 2023