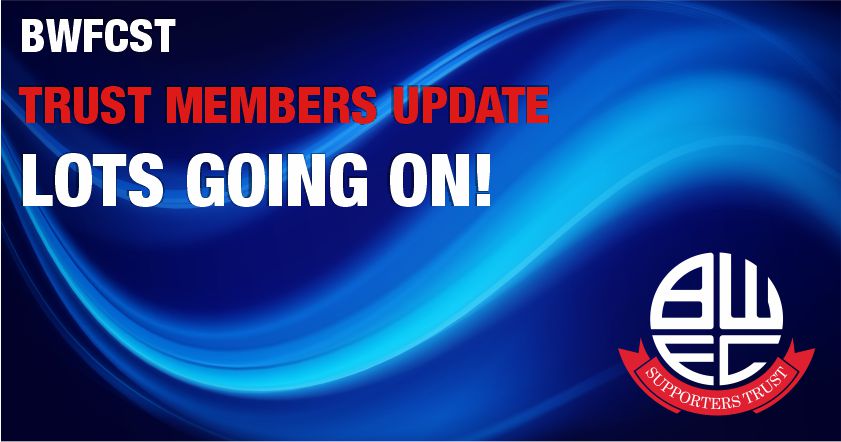 Trust Members Update – Lots Going On!
BWFCST Admin
Wembley Bound!
After the excitement of the PJT semi-final, all eyes are now on Wembley on 2nd April.
It should be a great day out and, who knows, this could be a rehearsal for another visit in May! If you haven't sorted your transport to Wembley, why not travel on a Supporters' Trust coach. We will be leaving from the Stadium/Arena between 6.30-7.00am (tbc) and the cost is £50 (members) and £55 (non-members). If you aren't already a trust member, your £55 will include a first year BWFCST membership. You can book places by emailing us with your details on This email address is being protected from spambots. You need JavaScript enabled to view it. – please hurry as seats are filling up quickly!
An Evening with Andy Walker
On Friday 10 March, the Bolton Wanderers Former Players Association are holding a fund-raising evening at the UoB Stadium. BWFC Legend Andy Walker is the special guest, Austin Knight is the comedian on duty and the evening will be hosted by Norman Prince. There will also be other former players in attendance, so this looks like being a great evening!
The event is to be held in the Platinum Suite and commences at 7.00pm with a welcome drink on arrival, a meal served at 7.30pm, followed by the comedian and then Andy Walker. There will also be an auction and a raffle to raise funds for the Former Players Association to help them with their ongoing charity work.
The trust have 2 tickets to give away to a lucky member plus guest to take part in what should be a great evening. If you are an annual subscribing BWFCST member, you are free on the evening and would like to attend, please email us on This email address is being protected from spambots. You need JavaScript enabled to view it. and we will conduct a draw to pick the winner. Closing date for entries is 5.00pm on Tues 7th March and the lucky winner will be notified on Wed 8Th March.
If you want to make sure of your place at the event, tickets are still available at £40 per head and can be obtained by calling Albert Lord (BW Former Players Association) on 07899 843965.
Matchday Bus Service
As previously advised, we are continuing our discussions with the club to look at all available options ahead of the club making a decision on the matchday transport services for next season. We will shortly be carrying out a short survey of supporters specifically associated with this matchday service to ensure as many BWFC fans as possible are able to register their views. We are looking to move this along quickly as we are aware that this is an important factor in ensuring the matchday experience is good for all.
Disabled Access Working Group
Consultation continues on this subject and various action areas are being developed. These include provision of a Changing Place facility, introduction of an Accessibility Passport and scheduling of upgrading of other access requirements. Our working group includes representation from BWFCST, BWitC, BWDSA and the club. If you are yet to renew your season ticket, please consider donating to the fund for the Changing Place facility by using the section in the payment process identified for this purpose. If you have any queries or suggestions in relation to this subject, please get in touch on This email address is being protected from spambots. You need JavaScript enabled to view it..
Board Elections
The trust board election procedure is now underway with nominations now being accepted. The necessary forms are available on the BWFCST website and the nomination process will remain open until 5.00pm on Monday 27 March '23.
The full timetable and procedures in place have been previously emailed to all trust members, but if you have any queries in relation to the elections, please get in touch on This email address is being protected from spambots. You need JavaScript enabled to view it. .
Let's do this together!

BWFCST
05 March 2023