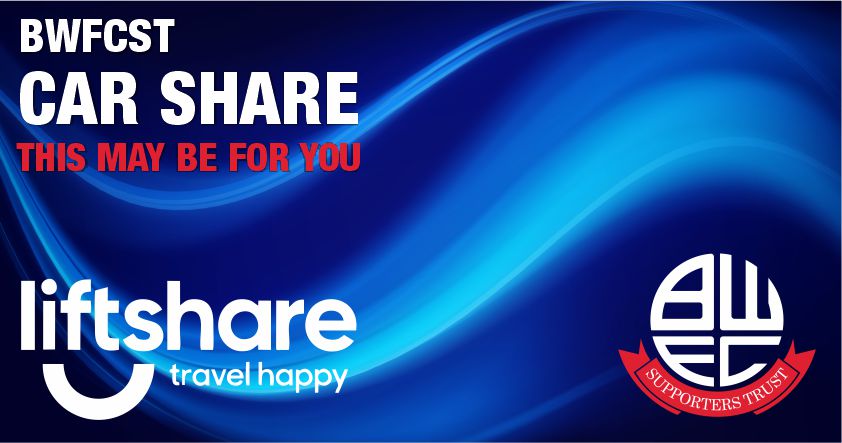 Car-share Overview – 08 Aug 2023
BWFCST Admin
Car-sharing schemes to assist BWFC fans travelling to home and away fixtures have been assessed by the BWFCST and whilst it is appreciated that friends and family who follow the Wanderers will already be car-sharing, there will still be spaces available for BWFC fans travelling to both home and away games from all over the country, with some of the routes being very similar if not virtually identical.
To put a car-sharing facility in place it would be necessary to identify and schedule those routes and then to put interested parties in touch with each other. However, our research has concluded that to establish such a scheme from scratch and bespoke to BWFC is not practically possible to carry out in-house for either the BWFCST or the club.

This points to the need to utilise the expertise and planning already available from third parties and after further research, we would like to point BWFC fans to a company called Liftshare. Membership of their car-share scheme is free and easy to put in place as Liftshare already provide this service to many thousands of people across the country. Such schemes not only assist with travel logistics generally, but also help users to save money whilst reducing CO2 emissions.

Please have a look at the Liftshare website by clicking here or by viewing more information on the BWFCST website by clicking here. Please also pass on to other BWFC fans as you feel appropriate.
If you have not already updated your membership to annual subscription, please do so by clicking here . Members can check their status by clicking here and logging in to their account. Your username is your email address and if you have forgotten your password you can reset by using the link here. If you have any further queries about your membership please contact This email address is being protected from spambots. You need JavaScript enabled to view it. .
If you know of any other BWFC fans who would like to become a BWFCST member, they can join by clicking here.
Thank you for your support!
BWFCST
08 August 2023