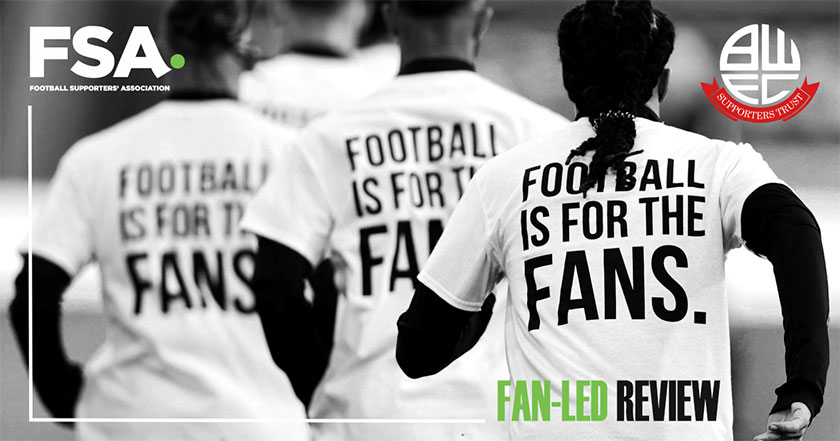 Fan-Led Review Update – Tracey Crouch Letter to Govt
BWFCST Admin
Further to our last update on the Fan-Led Review (FLR) which can be view by clicking here, Tracey Crouch MP, who is leading the FLR, has yesterday written to Oliver Dowden MP, the Secretary of State for Digital, Culture, Media and Sport, with an interim report on her observations and recommendations to date.

The full letter is available on our website and can be viewed by clicking here but please see below some of the items raised by the FLR Panel to date. Quoting from the letter, Tracey Crouch states:
I wish to inform you of the conclusion I have reached that in order to protect the future of key aspects of our national game a new Independent Regulator for English Football ('IREF') is needed.
It has been an incredible experience to hear from so many different football stakeholders. But it is the voice of fans that has been the loudest and clearest.
While that threat (European Super League) has receded - for now - the dangers facing many clubs across the country are very real with their futures precarious and dependent in most cases on the willingness and continuing ability of owners to fund significant losses.
Operating at such a level of consistent losses is clearly unsustainable in the long term…
…without reform, English football could face an existential crisis in years to come unless pre-emptive action is taken now.
…while there has been progress with some clubs demonstrating excellent fan engagement and transparency, too many clubs have not made sufficient, meaningful progress.
…I therefore intend to explore measures to mandate greater fan engagement, and in particular measures that will seek to provide for fan consultation on key issues.
This is just the start. Thanks to the extensive engagement from the football community, building the foundations of this Review, I have been able to set out the direction of travel towards the final recommendations.
As reported previously, the BWFCST have been involved in various meetings with the FLR panel and Government representatives and have contributed with views based on the feedback received from members.

Yesterday, we were also invited as one of three League 1 Supporters' Trust representatives to take part in the twice-yearly EFL/FSA Supporter Engagement Meeting. The EFL will be producing minutes of the matters discussed at the meeting in the near future which we will put on the website and distribute to members when available.

The BWFCST are also assisting the Fair Game project, a growing group of EFL and non-league clubs (as opposed to fan groups) who are now supporting the call for reform in the way football is administered and change the game for the benefit of all involved in our national game. The Fair Game proposals can be viewed by clicking here.

We hope the above gives an insight into current developments in the football world and also the acceptance now of the fact that football is nothing without the fans and that their voices need to be heard.

The BWFCST will look to continue with involvement in these important matters and we need to be as strong and as representative as possible.

Once again, thanks to all those existing members who have transferred their memberships to annual subscription basis. If you have not already done so, you can upgrade by logging in here (your username is your email address in full). If you are not already a member, you can join by clicking here.

BWFCST
23 July 2021