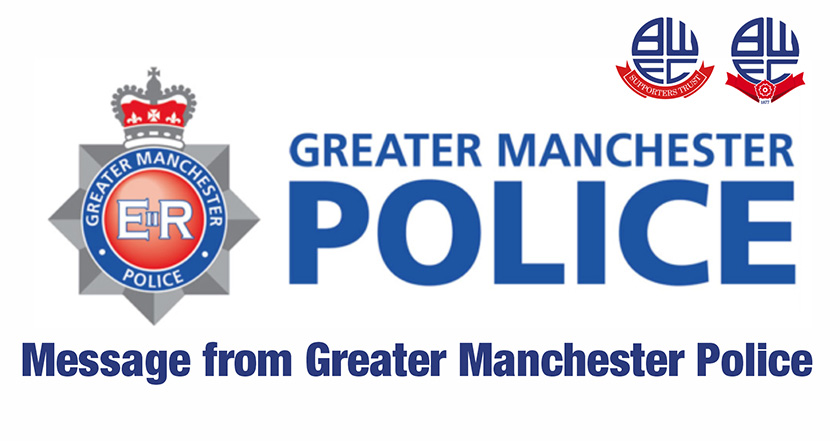 Message from Greater Manchester Police
BWFCST Admin
We have been requested by Greater Manchester Police Gold Commander CH Rose to post the following message on our social media accounts ahead of tomorrow's game v Wigan Athletic:
"This weekend Bolton Wanderers taking on Wigan Athletic at the University of Bolton Stadium.
As this is a derby, we're expecting a big crowd of fans who will be no doubt looking forward to the buzz and excitement this fixture will bring.
As such there will be an increased number of police patrols at this fixture to ensure the safety of all those in attendance and to make sure that everyone is able to enjoy this event and feel safe.
We appreciate and respect the passion and support that people show for their teams, and we want everyone to be able to enjoy the match and have a good time. For all derby games, we always prepare for any groups of people who may decide to engage in anti-social behaviour which will not be tolerated. Officers will take swift action against those who attempt to spoil the day for others by causing trouble.
Following recent arrests at previous football matches, our staff at the weekend will have helmets attached to their belts, however we do not anticipate having to wear these. Our officers' safety is a top priority so it is important that we take precaution to ensure they are protected from injury in case of any antisocial behaviour.
Please do let us know if you are aware of anything that you think may help us to keep everyone safe this weekend and ensure that you, your friends and families have an enjoyable day.
Our officers will be happy to speak to anyone who has any concerns so feel free to say hello."
The above message echoes that issued yesterday by our Chairman, Sharon Brittan, which can be viewed here
BWFCST
15 October 2021
If you are not already a BWFCST member, you can join today by clicking here.