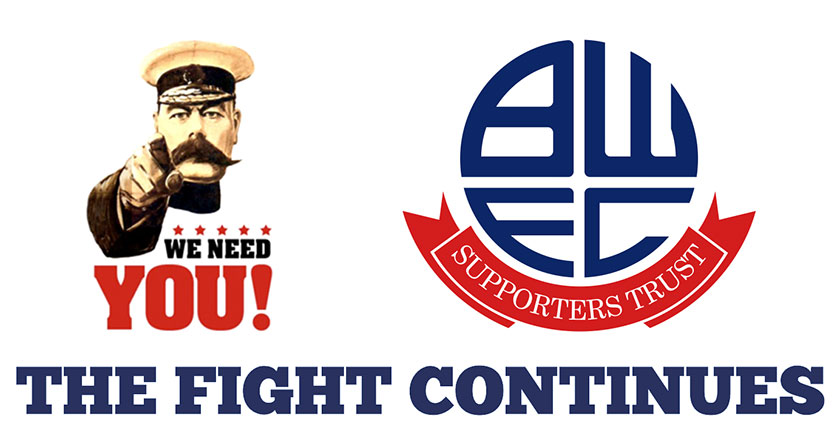 The Fight Continues
BWFCST Admin
Most football fans will be aware of the Government's fan-led review of football governance announced following the failed attempt to establish a breakaway European Super League.
As part of the evidence gathering process the Sports Minister, Nigel Huddleston MP, chaired the first of many meetings with supporter representatives in Manchester this afternoon with all proceedings recorded for feedback to the review Chair, Tracy Crouch MP.
In addition to Malcolm Clarke, FSA (Football Supporters' Association) Chair, supporters were represented at this inaugural meeting by BWFCST Board members Mike Smith and Paul Wood along with two senior members of Man United Supporters Trust and the Chairman of AFC Bury.
The hour long meeting was described as very positive and Mike and Paul fully contributed to discussions that covered what fans wanted to see changed, why and what areas should be prioritised as well as supplying important background from Wanderers' recent experiences.
The Trust's involvement and opportunity to directly influence leading members of this important review is not only a notable achievement but is testament to the often unseen and unsung hard work carried out by Board members behind the scenes in developing and nurturing contacts, particularly within the FSA.
This is of course the first step on a long road but it demonstrates that the BWFCST is well placed to continue to play an influential role in promoting the fans' voice in this ground breaking review.
This however is just the beginning of the process and we need your help and support to continue the fight and take a proactive role in the debate and how any future legislation is shaped. To do this we need you to act to ensure that you are fully paid-up members of your BWFCST by reinstating your annual subscriptions if you haven't already done so, or by joining for the first time by clicking here.
Your support is more essential now than it has ever been.
Individually we stand alone. Collectively we can make a difference.
Thank you for your support!
BWFCST
26 May 2021