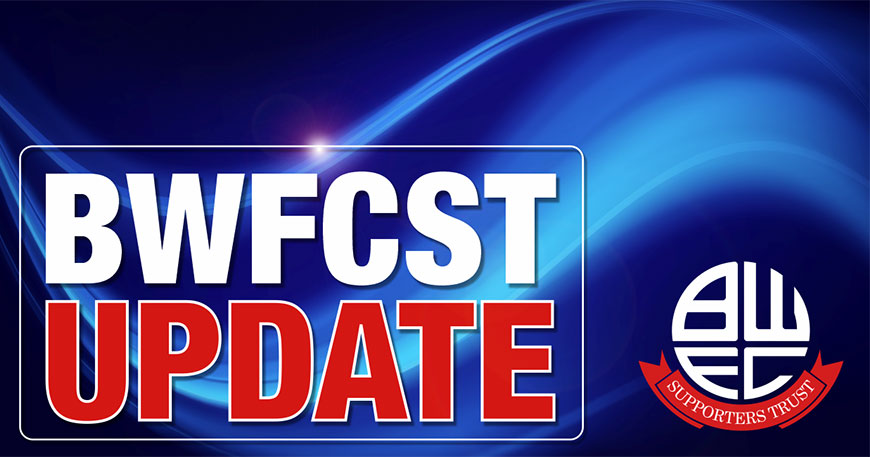 Bolton Council Decision on ACV Application
BWFCST Admin
As BWFCST members will be aware, in December 2016 we made an application to the Bolton Council to have the Macron Stadium listed as an Asset of Community Value (ACV).
We are pleased to confirm that today, Thursday 23 February 2017, Bolton Council have notified us that they have now approved our nomination.
Safeguarding the long term future of the club is the main focus of the BWFCST. The registration of the ACV status of the stadium provides the BWFCST members with an opportunity to influence any future sale of the Macron Stadium by being part of any such process. Having been witness to the sale of club assets leading up to the takeover of the club in March 2016 and the subsequent developments that still see BWFC experiencing ongoing financial stresses, we know all too well the importance of prudent control of assets still owned by the club.
The Macron Stadium now joins Anfield, Old Trafford, Ewood Park, The Valley, St Andrews, Bloomfield Road and Portman Road amongst other football stadia that have an ACV listing. We are also aware of several other clubs that have ACV nominations currently under consideration by their local councils and hope that all these clubs receive the same support and assistance that we have received from Bolton Council.
ACV status also ties in with the general belief that football clubs are of vital importance to their local communities and can be better protected when their supporters play an active role in the running of those football clubs. We are not, by any means, the first football supporters' organisation to pursue this route and we have consulted with other supporters' trusts and Supporters Direct during the preparation of our application. Our submission to Bolton Council also received backing from local MPs and past players including Gudni Bergsson, John McGinlay, David Lee and Jussi Jaaskelainen and our thanks and appreciation go out to all involved.
This is a positive event in helping to safeguard the future stability and sustainability of our club and in ensuring the use of BWFC assets always has the greater good of our club as the main focus.
Further information about ACV status can be viewed in a Supporters Direct document already on our website or by clicking here