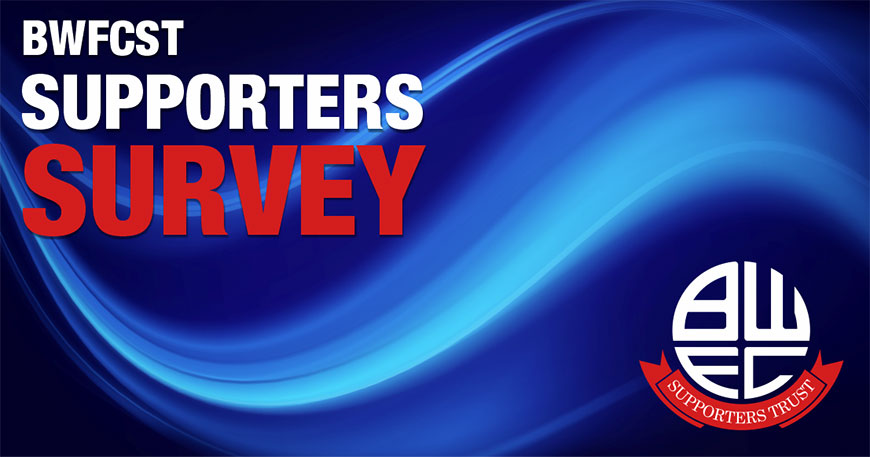 Survey Update
BWFCST Admin
During April, the new board of BWFCST asked supporters for their views on how the current pandemic might affect football as we know it now. In that survey we also invited feedback and comments on any other things supporters felt were relevant.
It was great to see so many get involved, with over 800 giving their views in the main survey, and over 600 pieces of feedback received in addition. Here are the headlines:
Nearly 75% of supporters told us they were missing football during this crisis with 2/3rds of supporters feeling that the model of professional football will have to change as a result.
Nearly half of those who participated felt that the season should end now with no relegation or promotion and when it comes to next season, 62% of supporters who replied confirmed they'll be planning to purchase their season tickets as normal.
What was loud and clear was the number of supporters (98%) who are wanting to know more about FV's plans for our beloved club. When we asked about frequency of communications, over half told us they wanted to hear from FV more often and 40% told us they are satisfied with the frequency so far.
We also asked how supporters would want the new trust board to engage with FV on fans behalf and 90% of those answering that question want to see evidence of structured dialogue with FV and an understanding of topics discussed.
The reason behind asking for feedback on any other points was to give supporters a voice, and the new trust board a real understanding of the areas we should be looking to address. We have spent some time looking through all the comments received and we've now categorised them into some key themes that are shaping what we do as a trust going forward. We have ranked the themes (positive and negative) based on the number of comments received, and they are as follows:
Engaging with FV on behalf of supporters
Building trust as a BWFCST
How we communicate
Season tickets, pricing and matchday experience
Offering Financial support
Membership and BWFCST development
Community initiatives

You have given the trust board lots of feedback and we'll work hard to make sure you see and hear what we're doing about it.

Shortly after we received the results of the survey we also trailed an idea that we had been discussing as a board about not pursuing the Club for refunds for games not played. Both on social media and in direct response to an email sent to members, the feedback was very positive with many supporters happy for the club to retain those funds where they were in a position to do so, and a number telling us of their interest in offering a monthly donation if that was an option.
We also appreciate that not everyone feels able to or wants to make that offer in the current climate, and some of the feedback makes that clear; but having had such a positive response overall, we have now reached out to FV about this initiative, and also the process for issuing refunds for those who want them.

We'll provide a further update as soon as we are in a position to do so.
Please stay safe – we are in this together!


BWFCST                                                                                                                     
13 May 2020