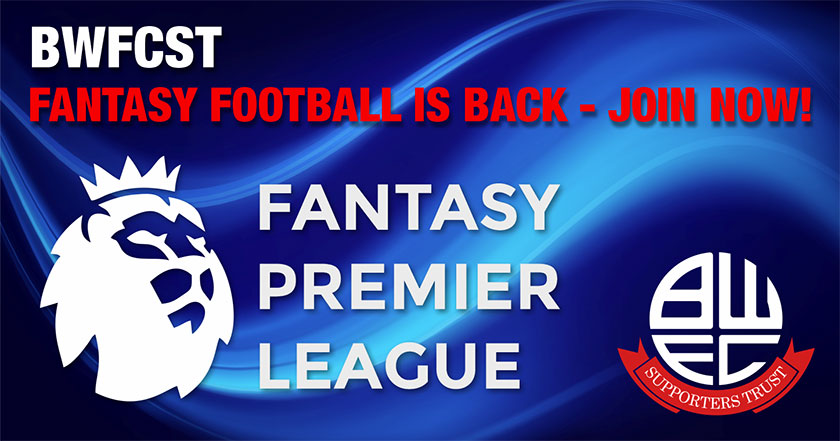 Fantasy Football Is Back – Join Now!
BWFCST Admin
For the 2021/22 Fantasy Premier League why don't you join the Supporters' Trust mini league "BWFCST 21/22"?
Last season, the Club gave us a fantastic prize, which was won by Tom Pearson with a brilliant and consistent performance throughout the last season.
Tom is eagerly awaiting his prize which will see him receive 4 places in the Chairman's Suite for a game this coming season.
Not only that, Tom and his 3 guests will have a behind the scenes tour and a meet and greet with the manager, all courtesy of BWFC!
Looking ahead to receiving his prize in the coming season, Tom told us:
"I'm already looking forward to the upcoming FPL season and I think it will be tough to replicate last year's result. Best of luck to everyone who takes part in the league, I'm sure it'll be a great competition."
And the fantastic news is that the Club have again agreed to offer the same prize for next season's BWFCST 21/22 Fantasy Premier League winner.
So, what are you waiting for? Joining the league couldn't be easier. Simply use the link below and you will be added automatically after you have entered the game:
https://fantasy.premierleague.com/leagues/auto-join/pjo1jz
League Code: pjo1jz
Thanks once again to our great Club for donating another prize and we look forward to seeing as many BWFC supporters playing in our league again this coming season!
BWFCST
10 July 2021