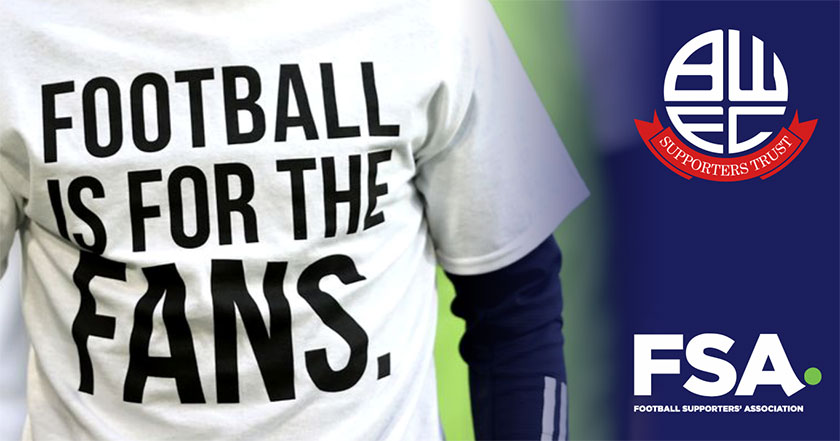 Fan-Led Review Q&A – Let Us Have Your Views
BWFCST Admin
You may have heard a lot in the news recently about the Fan-Led Review. The initiative has gained momentum after the recent European Super League debacle.
Explained below are the objectives of the Fan-Led Review and the role the BWFCST is playing in supporting this important initiative.
What is the Fan-led Review?
This review was promised by the current Government in its Party Manifesto for the 2019 General Election.
It will look at the way that football is governed in England across a wide range of issues.
What sort of issues?
There is no single, definitive list. But the FLR will certainly look at:
Reforms to the way that TV revenues are distributed through the pyramid.
Look at interventions to protect club identity.
Securing a greater role for supporters in the way that their clubs are managed.
Explore governance structures in other countries, including ownership models.
Examine the way in which the FA and the various Leagues carry out their functions.
Consider whether a new, independent regulator is needed for football.
The Terms of Reference (ToR) are here.
Why now?
Partly because of the Manifesto Commitment, but there is no doubt that the recent developments around the European Super League (ESL) have given looking at these issues even more urgency.
Who is going to carry out the review?
Tracey Crouch MP will chair the panel and she will be supported by a group of people reflecting views from different parts of the game. As the name of the review suggests, the views of fans will be especially influential.
Ms Crouch is a Conservative Party MP for Chatham & Aylesford, a former Sports Minister, and a Tottenham fan.
The Members of the Panel supporting her are:
Kevin Miles - Chief Executive, Football Supporters Association
Denise Barrett-Baxendale - Chief Executive, Everton FC
Clarke Carlisle - former Chair Professional Footballers Association
Dan Jones - Football Finance
Dawn Airey - Chair, Football Association Women's Super League
David Mahoney - Chief Executive, England & Wales Cricket Board
James Tedford - former Secretary, Southport FC
Godric Smith - Director, Cambridge United FC
Danny Finkelstein – A political columnist for The Times
Roy Hodgson - former England Manager.
You can see more of a description of who they are and the wide representation of the game they cover here.
How long will the review take?
It is expected to be some time in October. The aim is to come up with some interim findings by the Parliamentary Recess in July, with a final report in October.
Who will be giving evidence?
A wide variety of people and organisations from within the game. The views of fans are particularly important, and Ms Crouch has already said that she wants to meet with as many Supporters' Trusts as she can.
This will be through fan-led online evidence sessions. Further details of evidence gathering can be found here.
When does this all start?
It already has - the Review had a fairly low-key launch on 20 May; meetings are already underway
When will it finish?
The Review may be concluded by the autumn. General assessment is that it is very likely to recommend some changes that require legislation.
If it does, then the Department for Digital, Culture, Media & Sport (DCMS) will have to secure Parliamentary time for a Bill. And that is highly likely to take the process into 2022 at least.
Is this not likely to disappoint supporters?
The more radical the recommended changes, the longer it is likely to take to implement them. The football supporters' movement through supporters trusts and fans in general, have the potential to speed up progress through active campaigning on the ground to demand it.
How can I get involved?
You can submit evidence of your own, if you wish, send us your views by clicking here or contact us via email at This email address is being protected from spambots. You need JavaScript enabled to view it.
Alternatively, you can write to your local MP to express your support for reform. In our experience, if enough of their constituents do this, most MPs feel obliged to take an active interest in proceedings. You can find out who your MP is here. You can also find examples of what points you may want to make here.
How can we keep up to date with developments?
We will:
Email our members with our regular updates of the review's progress.
Publish regular updates on our website.
Share our information on our social media platforms.
Provide opportunities to discuss the review through online meetings with our affiliates and members
Focus on different aspects of the review in order to give our supporters more "in depth" coverage on some of the detail.
We have several consultation meetings schedules with the FSA and we would look to table any thoughts or ideas you may have relating to football governance and the ongoing review.
Please keep in touch – football is nothing without the fans.
BWFCST
08 June 2021