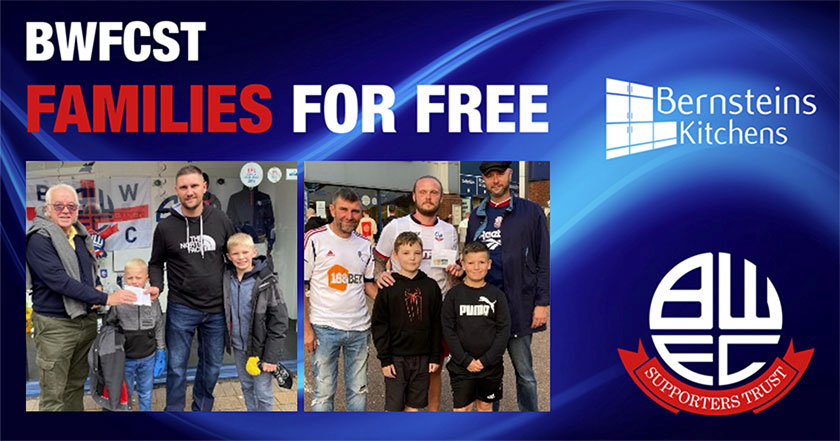 Families for Free – Trust Family Ticket Update
BWFCST Admin
Our Family Season Ticket programme is now moving into the December games at the UoB. Our Ticket Sponsor, Bernsteins Kitchens have kindly donated a family season ticket for 2 Adults & 2 Children in the Carrs Pasties Family Stand, with a £25 food and drink voucher to spend on the day.
We are now looking for members nominations for the December games against Wycombe Wanderers on 18th Dec (3.00pm ko) and Morecambe on the 26th Dec (3.00pm ko) and we would like YOU, THE FANS to nominate a family that YOU feel are due a free day out at the UniBol.
Think of who you'd like to reward with this fantastic prize and BWFCST members can email their nominations to This email address is being protected from spambots. You need JavaScript enabled to view it. and tell us why you feel they should be recognised, and then a lucky winner will be chosen for each home game in the following month.
The last day for trust members to submit their nominations for the two home games during December is 5.00pm on Friday 10th December, so all get your thinking caps on and let's get that deserving family to a Whites game!
If you are not already a BWFCST member, you can join today by clicking here.