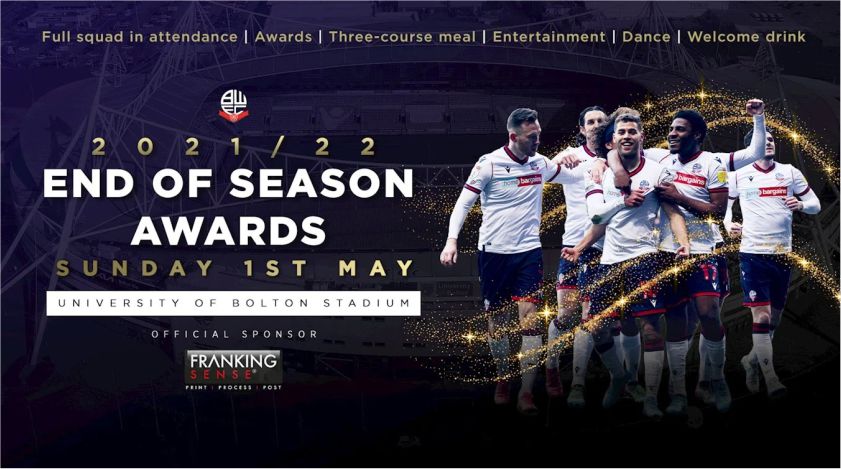 End of Season Awards Evening – Free Members Draw!
BWFCST Admin
Free Draw for BWFCST Annual Subscription Members
As our email earlier this week, BWFCST annual subscribing members have a chance to win one of a pair of 5 tickets for the End of Season Awards Evening on 01 May '22. The event will be held in the Premier Suite, with Ian Evatt and the full squad in attendance as well as Sharon Brittan and fellow club board members.
We are also proud to announce that the trust will be sponsoring the Lifetime Achievement Award and we are sure that the evening will be a memorable one!
If you are free to attend on Sunday 01 May and would like to be entered into a free draw for one of the 5 pairs of tickets, please email us on This email address is being protected from spambots. You need JavaScript enabled to view it. and register your interest and we will enter your name into the draw.
You have until entries close on Sunday 24 April at 5.00pm to register your entry and winners will be notified within 24 hours of the closing date.
Please note that you must have previously upgraded to annual subscription to be entered into the draw for one of the five pairs of tickets.
What if I haven't upgraded to annual subscription?
If you haven't already transferred to annual subscription status, you can do so by visiting our website by clicking here and following the instructions as to how to upgrade.
You then need to register for your place in the free draw before the closing date by emailing us on This email address is being protected from spambots. You need JavaScript enabled to view it. and request entry into the draw.
How do I check if I have already upgraded?
If you are unsure as to whether you have already upgraded your account to annual subscription, you can check by logging into your account here.
Forgotten your account login details?
You can reset your login details by either clicking here or emailing This email address is being protected from spambots. You need JavaScript enabled to view it.
Thank you for your support!
BWFCST
07 April 2022